2016 Women Build Kickoff Event
February 1, 2016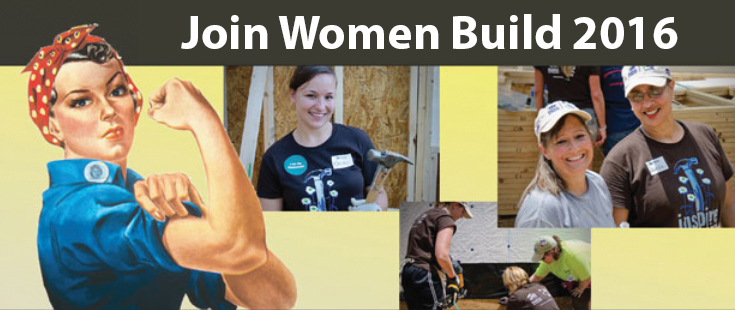 We will be raising the walls on our seventh annual Women Build home in Franklin in about two months! Join us at a kickoff event to learn more! Both men and women who are interested in working on the build are welcome.
No experience in either fundraising or house-building is necessary.
    Saturday, March 5

    3:00pm to 5:00pm   

    At 3:45, there will be a short presentation & tips on fundraising for the build.

    Veteran Women Build participants will be on hand to answer questions.

    Appetizers from Granite City will be served.

    Drinks, including wine & beer, can be purchased.  
http://www.hfhwm.org/our-builds/women-build/
https://www.facebook.com/hfhwm
 What is the Women Build? The Women Build is a Habitat Build where women of all walks of life come together to address the housing crisis that faces many of the women and children of Williamson and Maury Counties.

Do I need to know anything about construction? Absolutely not! We encourage women who are interested in learning constructon skills to volunteer, or women who are just looking to get involved in the community.

What if I am new to the community? No problem! The Women Build is an excellent way to meet people. It's an memorable experience you'll never forget!

When does the build start? Saturday, April 2

Are there any requirements? Each volunteer is asked to raise $250 toward the house, but if you want to raise more, you are welcome to do so! We have tools to help you achieve this goal and are here for support!

How do I sign up to build? Please contact Emma Couch at ecouch@hfhwm.org or 615-550-5619.


 
Those who would like to join the build, but can't make the kickoff event, can contact Jennee Galland at jgalland@hfhwm.org or 615-550-5617.

Please help us in thanking the Drury Plaza Hotel and Granite City for sponsoring this event!